Ooh, I love FIFAs. The first one I remember watching was the 2002 one. I was so crushed when I found out they only come around once every four years. Sigh, I think the 2002 cup was the best. Those were the days of David Beckham and Michael Owen, before arrogant idiots like Rooney and Ronaldo came and crashed the party. I was just mentioning this to Satyan yesterday, actually. "Gone were the days when Michael Owen was treated like a gem and only brought out last-minute like a secret weapon." Argh! And I miss catching David Beckham's banana kick!
There, I feel better after that rant. We move with the times. I'm not supporting any team in particular (
though my heart, if you ask me, might still be with England. Though I don't believe they'll breakthrough this year, actually.
) But anyway, here are some players
JacieTanChengHwee
is going to look out for. Not Messi. Okay maybe. Lionel Messi seems to me to be a real star to look out for, but, he is, er, kinda ugly.
Next, Kaka. Liked Kaka all along. I mean, he's always been good, right? And he's cute. He's good, AND cute!
Steven Gerrard? Maybe. Ala, I know he's okay only la, but he's the only decent-looking England player right?
Saving the best for last! Okay, I admit I haven't seen this guy
play
, but I've SEEN this guy, in pictures, and he is
cute
cute
cute
cute
cute!
Argh, cutest player
ever
! He is sooooo cute! So cute, he gets three pictures instead of one!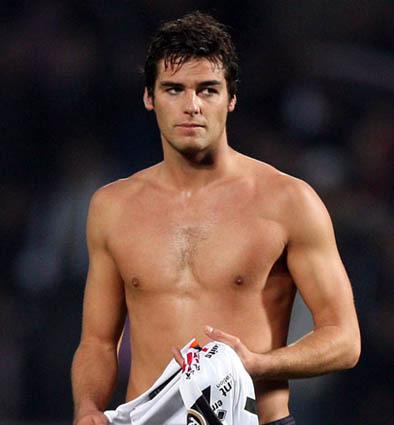 For the record, I am not just into football to look at hot guys, okay. Despite what Edbert tells you. And I may not know that much about the game, but Han Wey, you huge head, I do know a little. More than you know about F1 racing, anyway. :P
P.S. I feel sorry for the players this year, what with those vuvuzuelas or whatever sounding like a hive of angry hornets times 5390432948 and the new ball, which I hear sucks. "For sure the guy who designed this ball never played football", haha.